Web Spin: Nissan Patrol 3.0 TD ST-L (GU III)
(this ain't no)
Highway Patrol
Test Vehicle:
Nissan Patrol ST-L 4WD
7 Seat Station Wagon
3.0 Intercooled Turbo Diesel
4 Speed Automatic
ABS
Options/Accessories Available in Range:
Satellite navigation system with reversing camera
AM/FM radio/cassette player with in-dash 6 stack CD changer and steering wheel mounted controls
Electric glass tilt and slide sunroof
Steel or Alloy Bullbar
Cruise Control
5 Speed auto with manual control
5 Speed manual transmission
When the term '4x4' or 'offroad' is used, the common recollection for vehicles is 'Jeep' or "Land Rover'. But like the words 'Hoover', 'Kleenex' and 'Band-Aid', they have become generic descriptions today that don't always bear much resemblance to the original product that spawned the word.
The original Jeeps and Land Rovers were built for robust military use with little or no regard for operator comfort. As revolutionary as they were in the 1940s and '50s, the 21st Century incarnation is far removed from the rough utilitarian coupes personified in Hollywood wartime dramas.
Today, the most popular four-wheel-drive RVs (Recreational Vehicles) in this country are almost unilaterally Japanese, with a smattering of European, Korean and American vehicles in the mix. Leading the Nippon charge is the ubiquitous Toyota Landcruiser, long the benchmark for quality, comfort and durability from the Land of the Rising Sun, but often challenged by Nissan's flagship 4x4, the venerable Patrol.
Blow-for-blow, the Patrol is every bit the capable 4x4. With powerplants ranging from 3.0 and 4.2 Turbo Diesels to the massive 4.8 DOHC 6cyl, you're never going to run out of power for the toughest, dirtiest tasks. Significantly, comparable Nissan models are usually several thousand dollars below their Toyota equivalent. If the faithful Patrol suffers from anything at all, it's simply market perception.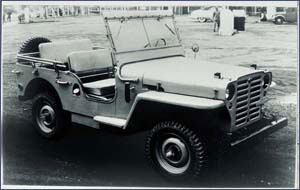 Both the Patrol and the Landcruiser began production at the beginning of the 1950s, not long after the first Land Rovers appeared. Back then, this genre of ¼ ton truck all looked very similar to the famous Willys Jeep (a term derived from General Purpose Vehicle and now a Chrysler Trademark). In half a century, eclectic car buyers have driven a quantum leap in refinements to this humble runabout. From auto-locking freewheeling hubs and cruise control to retracting cup-holders and CD players, the modern GPV is an ultra high-tech rolling playground and entertainment centre. Enter the SUV (Sports Utility Vehicle).
Our test vehicle was a mid-range 3.0 TD ST-L with smooth, delightfully aromatic leather upholstery, 4 speed automatic transmission and seating for 7 adults. Just four of us and some picnic equipment made the all-day round trip via Lithgow, Sofala, Hill End and Bathurst including a run along the fabled Bridle Trail.
Just to make sure we gave the Patrol a proper workout, we cut across country from Wallerawang via Sunny Corner to Wattle Flat through the Turon State Forest and past the Winburndale Nature Reserve. Several fallen trees and dead-ends meant the fullest extent of the all-wheel-drive mechanisms were employed in returning us to our mapped route. The expansive views, photo opportunities and thrills were worth it even if the our stead was only mildly taxed.
Driving a large modern 4WD like the Patrol is now an effortless task thanks to silky smooth automatic transmissions and power steering. It's now common to see slightly-built suburban mums ferrying their primary school-bound cargo along suburban streets or bullying lesser vehicles out of the prime parking spaces at Coles. Such is the ease now built in to these three tonne chariots that 'P' plates can even be seen.
Our driving impressions concur with the acclaim already received from the motoring press. The face-lifted 2005 model and its improved 3.0 litre diesel impressed us with its relatively quiet operation, ample torque and impressive economy.
When considering a Nissan Patrol over any of its contemporaries, it's worth noting the 3 year/100,000 kilometre warranty as standard, plus extended packages available as optional including 24hr roadside assist. Users report excellent reliability and fuel economy, claims we can verify immediately. OUTThere had the 3.0 Turbo Diesel for a week, drove it every day, including our extended day trip out west and never put a drop of fuel in it. The Patrol comes with two fuel tanks; a 95 litre main tank and a 30 litre reserve which pumps to the main tank when selected on the dashboard. Based on the claimed fuel consumption of 10.7 litres/100 km, we travelled over 3000 km.
NRMA cost surveys rate our test Patrol as the cheapest large 4WD to run when compared to the similar Ford Explorer and Toyota Landcruiser.
In summary, there's no penalty whatsoever in choosing a Patrol over any of the major SUVs in the BIG category. You'll get every bit of the space, power and road respect afforded its competitors and have a few grand to spare.

Report by Rod Eime.
---
All material, unless otherwise noted, is copyright to the author and may not be used, reproduced or mirrored without express consent in writing. Permission is not specifically sought for linking, although the author does appreciate notification.