CORNISH ASSOCIATION OF NSW
EVENTS
2014
---
CANSW Cornish bezants & Waratah Logo
and CANSW members celebrate under the flag
Some coming Functions and Events in 2014
The 2013 programme is being progressively developed and updated
Email for more information: CANSW Secretary
Australia Day Celtic Festival - Bradfield Park, Milsons Point
From 10am Sunday 26 January, 2014
- ALL welcome! Bring family and friends
Annual General Meeting 2013 - 11am Saturday 8 March, 2014
- ALL welcome!
Saint Pirans Celebration Lunch - 12:30apm Saturday 8 March, 2014
- ALL welcome! Bring family and friends.
Email for more information: CANSW Secretary
Members Interests Meetings - 2014
Saturday 14 June, 2014 - 1.30pm At Ryde Eastwood Leagues Club - (or meet at 12 noon for bistro/cafe lunch) - ALL welcome! Bring family and friends
Christmas Carols at Byng - 4pm on a Sunday in December, 2014
- Byng is near Orange.
---
Note: Members Meetings - 1.30 to 4pm. Several times a year, these meetings for ALL members are held on a weekend afternoon, generally at the Ryde Eastwood Leagues Club, West Ryde, NSW - check for latest above

22nd AUSTRALIAN CELTIC FESTIVAL : The Year of Cornwall - Glen Innes - Friday to Sunday on the first weekend in May - ie. 1st to 4th May 2014
At the magnificent Australian Standing Stones
20th KERNEWEK LOWENDER - South Australia - Kadina, Moonta, Wallaroo - 21 to 26 May, 2013
---
SOME OTHER EVENTS AROUND THE CORNISH WORLD
The 17th North American Cornish Gathering -
13/17 August, 2014 in Milwaukee, Wisconsin, USA - More details: www.cornishgathering.org
---
Pictorial Archival Record
Parties of the CANSW and of QLD and the ACT at Glen Innes in 1995, during an Association visit to the Australian Celtic Festival
A party of the CANSW at the historic Cornish Settlement of Byng, near Orange, during an Association visit in September 1997
A party of the CANSW during a visit to the old gold mining and Cornish settled areas of the Adelong & district in September 2003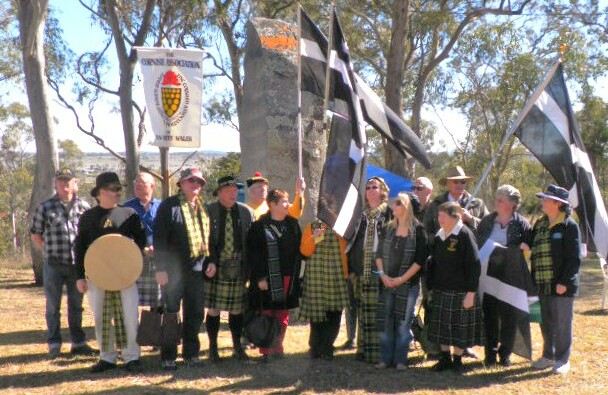 Cornish from CANSW, CAQ, SA and SSOC - at Glen Innes 2012
---
You may want to browse further:

.. GO TO The Cornish Association of NSW pages; incl. Byng, Cadia, and Cobar CANSW heritage projects, and Surnames page

.. Australian Federation of Cornish Associations (AFCA) site

.. Caer Australis - Other Aussie Celtic Events & Celtic Pages

.. Dunkerley Cornish & Celtic Page; with links to Cornish Language & Bardic pages as well as other Cornish sites

---
Chris Dunkerley, Hon. Sec. CANSW .. ..
kevrenor@ozemail.com.au
Secretary CANSW
21 Cliff Road Epping NSW 2121 Australia
.. (02) 9876.2893 (answerphone)
FAX.. (02) 9876.2618
---
Copyright & copy; 1996 - 2014 for Cornish Association of NSW - Prepared by Chris Dunkerley
This Page was loaded onto Ozemail on 10th July, 1996
This revision was loaded on Sat 18 January, 2014
Thank you for visiting! You were enquirer number :
since counter re-installed on 12/04/2011.
---