CORNISH ASSOCIATION OF NSW
EVENTS
2016
---
CANSW Cornish bezants & Waratah Logo
and CANSW members celebrate under the flag
Some coming Functions and Events in 2016
The 2013 programme is being progressively developed and updated
Email for more information: CANSW Secretary
Gathering at Lennox Head & Ballina - Sunday 21 October, 2016 - Northern NSW, NSW - email for details
End of Year Lunch - Rockpool, Circular Quay - Sydney - From 11:30am Wednesday 23 November, 2016 (In planning – Details to come)
Christmas Carols at Byng - 4pm on a Sunday in December, 2016
- Byng is near Orange.
Australia Day Celtic Festival - Bradfield Park, Milsons Point
From 10am - 26 January, 2017
- ALL welcome! Bring family and friends
---
24th AUSTRALIAN CELTIC FESTIVAL : The Year of the Isle of Man - Glen Innes - Friday to Sunday on the first weekend in May - ie. 28 April - 1 May 2016
At the magnificent Australian Standing Stones
22nd KERNEWEK LOWENDER - South Australia - Kadina, Moonta, Wallaroo - 24 to 27 May, 2017
---
SOME OTHER EVENTS AROUND THE CORNISH WORLD
The 18th North American Cornish Gathering -
held date to be advised - More details: www.cornishgathering.org
---
Pictorial Archival Record
Parties of the CANSW and of QLD and the ACT at Glen Innes in 1995, during an Association visit to the Australian Celtic Festival
A party of the CANSW at the historic Cornish Settlement of Byng, near Orange, during an Association visit in September 1997
A party of the CANSW during a visit to the old gold mining and Cornish settled areas of the Adelong & district in September 2003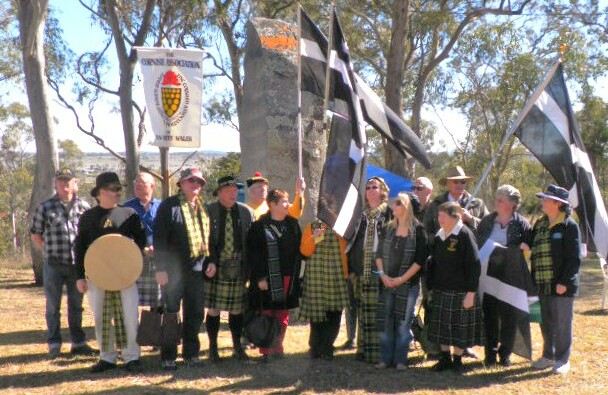 Cornish from CANSW, CAQ, SA and SSOC - at Glen Innes 2012
---
You may want to browse further:

.. GO TO The Cornish Association of NSW pages; incl. Byng, Cadia, and Cobar CANSW heritage projects, and Surnames page

.. Australian Federation of Cornish Associations (AFCA) site

.. Caer Australis - Other Aussie Celtic Events & Celtic Pages

.. Dunkerley Cornish & Celtic Page; with links to Cornish Language & Bardic pages as well as other Cornish sites

---
Chris Dunkerley, Hon. Sec. CANSW .. ..
kevrenor@ozemail.com.au
Secretary CANSW
c/o 34 Circular Avenue, Sawtell, NSW 2452 Australia
.. 0409 393 059 ..
---
Copyright & copy; 1996 - 2016 for Cornish Association of NSW - Prepared by Chris Dunkerley
This Page was loaded onto Ozemail on 10th July, 1996
This revision was loaded on 25 September, 2016
Thank you for visiting! You were enquirer number :
since counter re-installed on 12/04/2011.
---